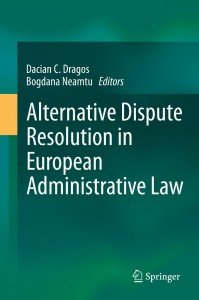 D.C. Dragos, B. Neamtu (eds)
Alternative Dispute Resolution in European Administrative Law
Springer 2014, 607 pages
---
Dacian Dragos & Roberto Caranta (eds.)
Outside the EU Procurement Directives, inside the Treaty?
European Procurement Law Series, Vol 4
DJOEF Copenhagen, 2012
---
Dacian C. Dragos, Bogdana Neamtu, Roger Hamlin (eds)
Law in action: Case Studies in Good Governance,
Institute for Public Policy and Social Research at Michigan State University,
East Lansing, USA, 2011
---
Dacian C. Dragos, Bogdana Neamtu (eds), 
Institutia Ombudsmanului: Justitie Alternativa? 
C. H. Beck, Bucharest, 2011
---
Editors: Dacian Dragos, Marton Gellen, Polonca Kovac, Philip M. Langbroek
The NISPAcee Journal of Public Administration and Policy Vol. IV, No. 2, Winter 2011/2012, Special Issue: Law and Public Management Revisited. 
Brian Thompson, Dacian C. Dragos and Bogdana Neamtu (guest editors),
Transylvanian Review of Administrative Sciences: Special Issue Law and Public Administration
---
Volume 9, Issue 3, July 2013 Special Issue on the Theory and Practice of Law in Public Administration and Administrative Justice